Stats
SP+ Updates and 2023 Schedule Preview

Football is right around the corner so I thought I would start getting the old spreadsheets out, get the fingers in typing shape, and take a look at what the Aggie squad is facing in 2023 schedule wise. Before we dive into the 2023 schedule, let's take a look at some of my previous writing as a jumping off point.
Aggie Football Historical SP+ Breakdown
I wrote this back before the 2021 season, and it's where I charted the course of Aggie Football through time using its final SP+ rankings from each year. I also compare schedules faced by each coach, breaking up opponents into different tiers based on their SP+ ranking. You can find all that above, as well as some useless commentary and unwarranted optimism from yours truly.
The key things to know before we look ahead are what the SP+ actually is and what the tiering system looks like:
The SP+ is an advanced metric created by Bill Connelly to measure a team's efficiency and explosiveness, adjusting for opponents and other factors. Each team gets an overall, offensive, and defensive rating, and then are ranked accordingly.
For the opponent tiers, Tier 1 would be teams in the Top 10 of the SP+, Tier 2 is 11-25, Tier 3 is 25-75, and Tier 4 is 76+.
Let's take a look at some updated charts.

I've added 2021 and 2022 to SP+ Rankings by Year chart. It doesn't reveal anything too surprising. 2021 saw Elko's best defense yet, a Top 10 unit that essentially held off the collapse that would eventually be the 2022 season. If prior seasons were an indication, it should have meant a bounce back year for the offense in 2022.
It didn't. It led to one of the worst offenses the Aggies have produced in recent history. Always fun when what we see on the field matches what's on the paper, right?
Next, here is the updated performance of each coach against the different tiers. Before we do that, I want to note that I updated SP+ ratings and rankings for every team based on Bill Connelly's latest data dump, so every coach on the list saw their records change a bit.
Example: Kevin Sumlin previously showed three Tier 1 victories (Alabama 2012, Oklahoma 2012, and Auburn 2014), but two of those ended up moving down to Tier 2 wins.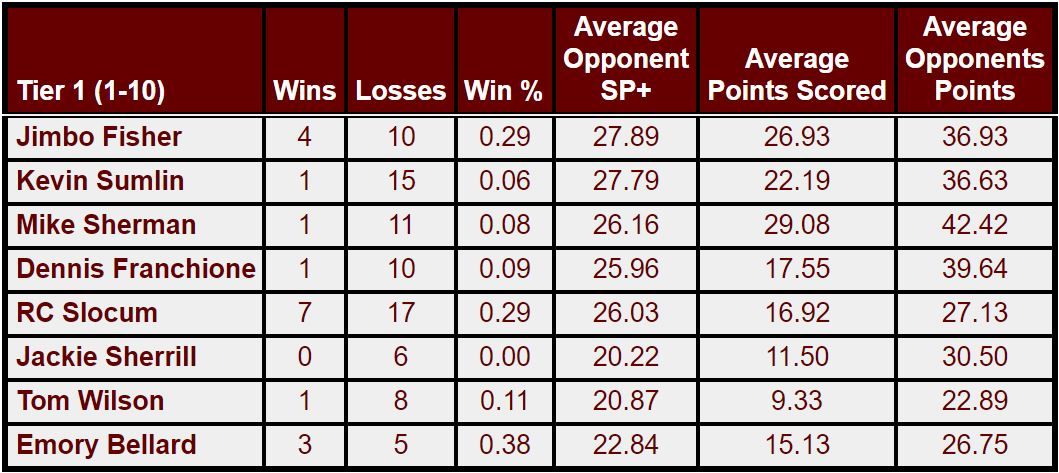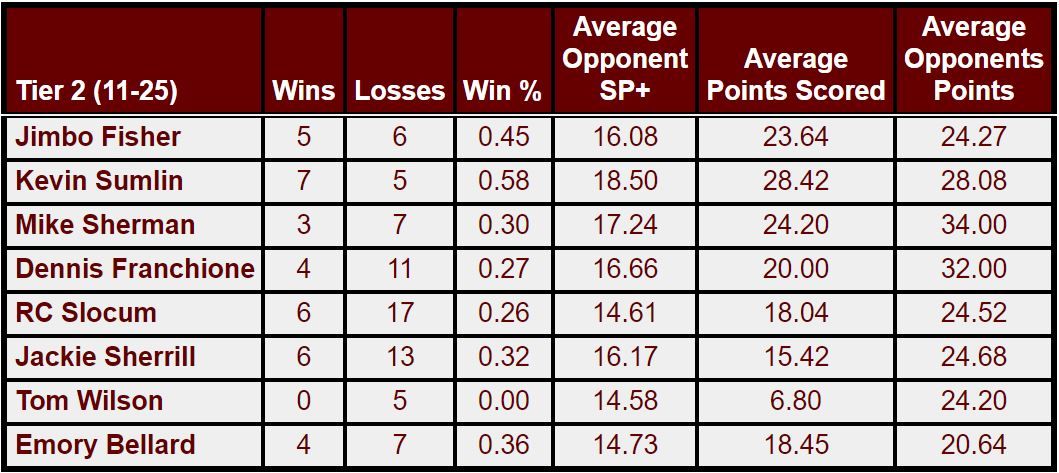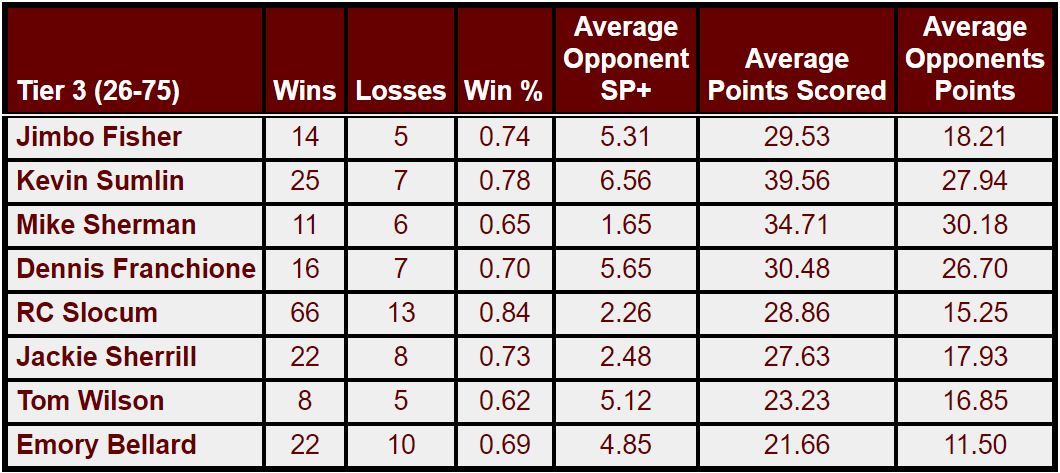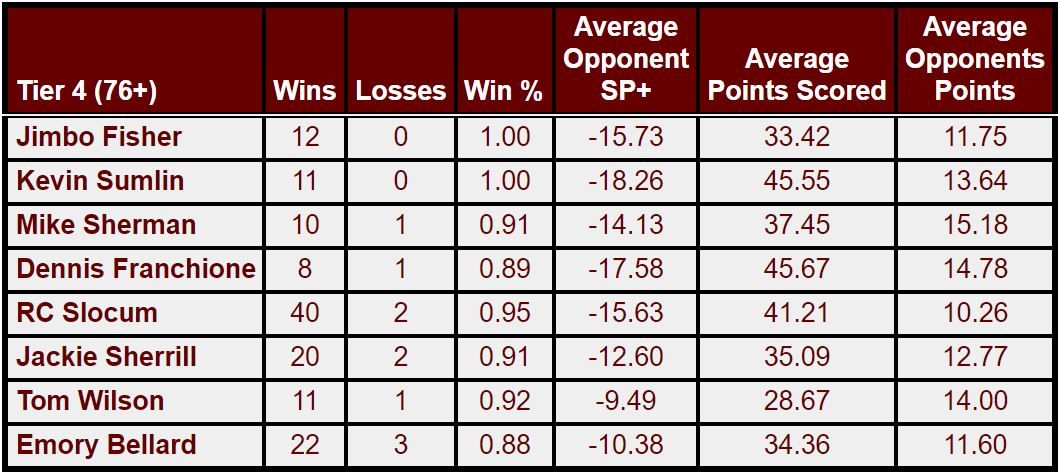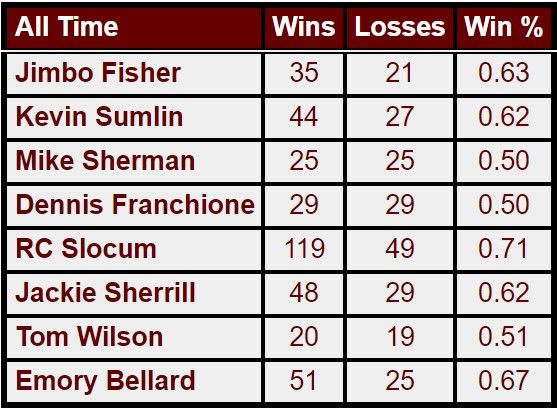 So what do we take from all this? Well, you can probably make it fit whatever narrative you want. Jimbo has been paid big money to lose too many games in the Tier 2 and Tier 3 section, but also has more Tier 1 wins than any Aggie coach not named Slocum.  Still, 5 seasons in, Jimbo has a similar Overall Win Percentage as the guy he replaced. A good record in 2023 is desperately needed to change that course.
Following our line graph seems to indicate a bounce back of some kind is almost certain, especially when you account for the amount of production the Aggies are returning in 2023 (8th in the country). But a great ranking in the SP+ doesn't necessarily mean more wins. Let's take a closer look at the 2023 schedule.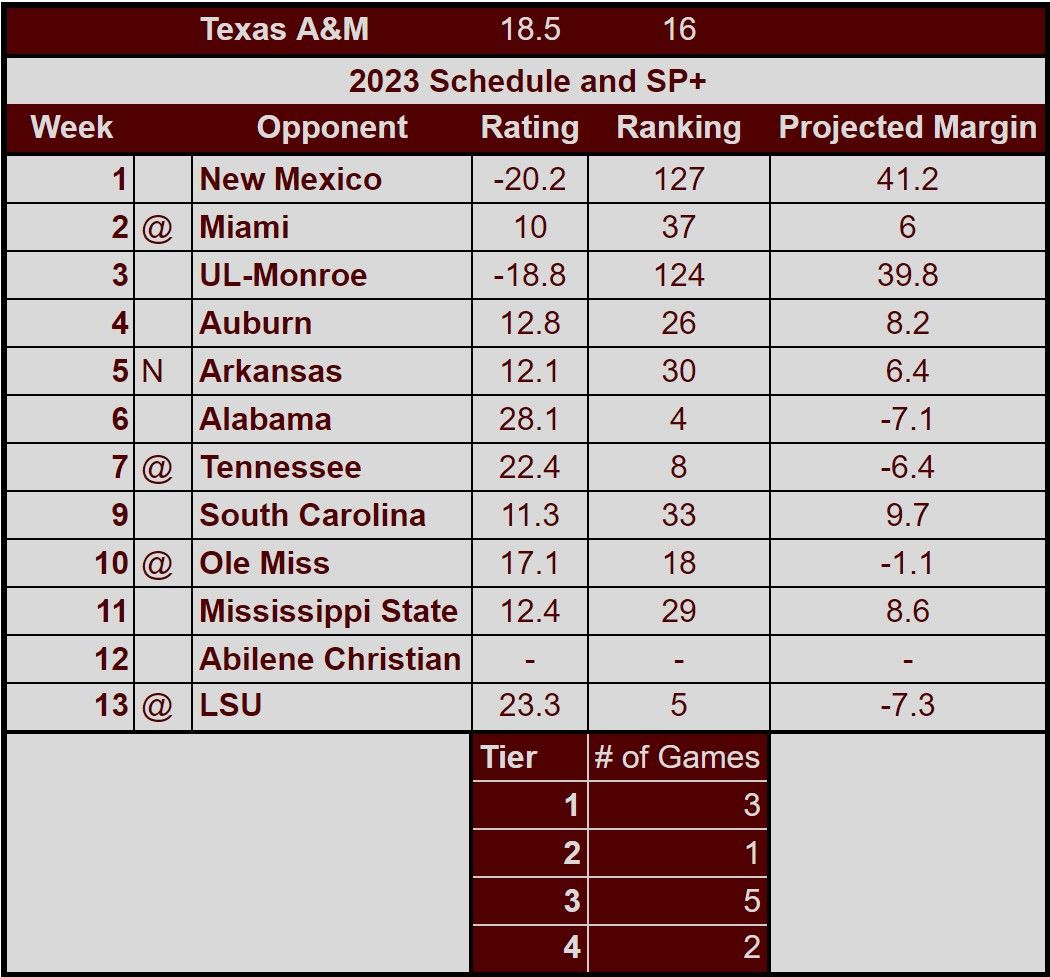 Not exactly light is it? In fact, Bill Connelly grades it at  #4 in his SOS ratings. With three Tier 1 opponents, it's not quite as difficult as the 2018 or 2019 lineups (which featured four) but it's still pretty salty.
Let's break it up and look at it three games at a time.
Weeks 1-3


Sandwiched in between two of the worst teams in all of FBS this season is a road game to Miami. The Hurricanes have lost a little shine after Cristobal's 2022 Collapse that rivaled the Aggies in terms of G5 losses, offensive ineptitude, and falling well short of preseason expectations. The SP+ is even less bullish on them this year, but the Hurricanes have made plenty of changes in the offseason, including at OC, DC, and a host of P5 transfers.
What I'm Watching For
Can the New Aggie Offense Beat Anyone by 40 points?
The SP+ projects the Aggie Offense to rank 44th this season, not exactly a unit you would expect to light the world on fire. The pieces are there though, and New Mexico and ULM are so bad that the Aggies are projected to beat them both by about 40 points. That's something that hasn't happened since 2020, when the Aggies beat South Carolina by 45 points to help nail the coffin closed on Will Muschamp's head coaching career.

I'm not advocating to run up the score just because you can, and I don't expect Petrino to walk in and completely reverse course on the Jimbo-ball we've come to see over the last few years (working clock, lots of offensive plays, etc.), not to mention the often repeated idea of "keeping it vanilla" until better competition starts. But these two defenses should be bad enough that a good offense will probably have to try not to score 50 points on them.
Who Improves More, the Ags With Efficiency, or the Canes With Big Plays?
A lot went wrong in 2022 that led the Aggie offense to cratering, and a big part of it was an inability to sustain efficient drives. They finished 90th in the country in Success Rate, the efficiency and methodical marching we'd come to expect from a Jimbo offense after 2018 and 2020 was nowhere to be found. The defensive side of the ball wasn't quite that bad, ranking 49th in Defensive Success Rate, but they especially struggled against the run, finishing 74th in Defensive Rushing SR.

On the other side, big plays were the bane of Miami's existence both on offense (124th in Explosiveness) and defense (117th in Explosiveness). Offensively, new OC Shannon Dawson didn't produce the most explosive offenses at Houston, but he's got a lot of TE talent to work with, as well as some experienced transfers such as Tyler Harrell to get the ball to. Defensively, they lost both corners off a secondary that gave up a LOT of big passing plays, so it will be a matter of getting their experienced transfers up to speed.
---
Weeks 4-6

The Aggies hit the meat of the schedule early, SEC play starts with a home game against Auburn, then the neutral site rivalry nobody asked for, and then Nick Saban returns to College Station (his last trip being the one that ended in a Seth Small game winning kick). Those are two "fringe" Tier 3 opponents, and one of the best teams in the country. If all has gone well, the Aggies could be close to a TD favorite going into their matchup with the Tigers and the Hogs, and possibly just a 7 point underdog to the Tide as well.
What I'm Watching For

How Dominant Can this Defensive Line Be?
Miami very well might improve over the offseason enough to push this defense, especially early in the season. But personally I believe the real test for Durkin's squad will be a rebuilding Auburn team coached by Hugh Freeze and Phil Montgomery and an Arkansas unit that lost a lot of talent, but returns KJ Jefferson and Raheim Sanders. Both Auburn and Arkansas averaged over 3 Line Yards/Rush against the Aggies last fall, improvement here could tell us if the Aggie Front 7 is really ready to live up to the hype.

Could Returning Talent Alone Be Enough For an Upset?
No team on Texas A&M's schedule returns as much talent as the Aggies (77%, 6th) do, and no team on the schedule brings back as little as the Tide (46%, 122nd). This is not uncommon for Alabama, they rarely seem to rank in the Top 50 of Bill Connelly's Returning Production Ratings. The "next man up" mentality after another crop of former 5 stars go in the first 3 rounds of the NFL Draft has seemed to work fine over the last 15ish years.
It's pretty rare for the Aggies to bring back this much though (at least in the Jimbo era). In 2020 they also returned 77% and while the season went pretty well, it wasn't enough for a Week 2 upset over the Tide. Maybe the equation is actually:
Substantial Gap in Returning Production + Uncertainty at Tide QB + Change in Both Coordinators + Early in the Season = Upset at Kyle Field
---
I'll finish out the rest of the schedule in a Part 2 post coming later this week. Thanks for reading. As always, SP+ info is courtesy of Bill Connelly at ESPN, most other info comes from collegefootballdata.com.